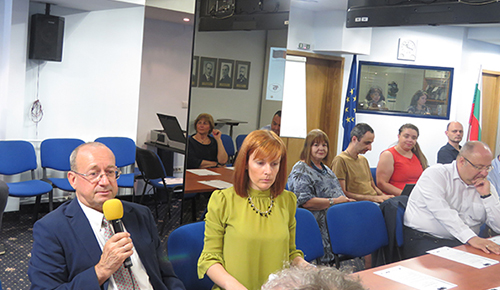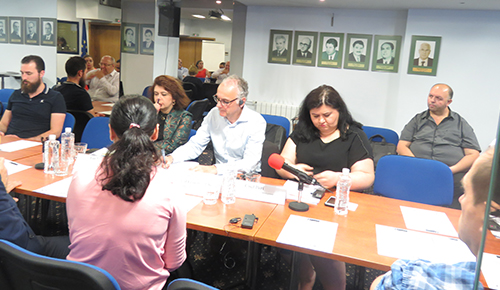 Sofia - 26th of june

On 26th of June, 2019 the teams of the BCCI and the CL "Podkrepa", engaged in the implementation of the project "GOOD WOOD", organized a National meeting on the subject "Challenges before the Social Dialogue in the Green Cycle Economy with a Focus on the Wood-Processing Sector".

Participants in the event were 23 representatives of the:
wood-processing industry
sectorial organizations, representing the interests of the enterprises in this branch
project partners – BCCI and CL "Podkrepa"
represented at national level employer organizations, participating in the social dialogue
represented at national level trade unions, participants in the social dialogue
public administration, etc.
After the official opening of the meeting by Mr.Tsvetan Simeonov, President of the BCCI, Beata Papazova and Miroslava Markova presented the project "GOOD WOOD", outlining its objectives, activities and expected results.
Gabriela Dimitrova from the BCCI and Maria Petrova from the CL "Podkrepa" shared the applied EU practices in the field of the green social dialogue, applicable in the green cycle economy, which is one of the priorities in the economic agenda of the EU.

The legal experts of the BCCI and CL "Podkrepa" – Mihaela Mihailova and Andrian Illiev outlined the role of the employer organizations and of the trade unions for the promotion of the green dimensions and aspects of the social dialogue.
On behalf of the wood-processing sector Mrs.Genoveva Hristova – the President of the Bulgarian Furniture Cluster underlined the specific features of the social dialogue in the wood-processing sector and shared her experience in this field.
The discussion was focused on the challenges before the social dialogue in the context of the green cycle economy in the wood sector in particular.
All the participants received the Bulgarian version of the leaflet of the GOOD WOOD projects and some materials on social dialogue.
The National meeting was closed by the President of the BCCI.

Agenda